About Irina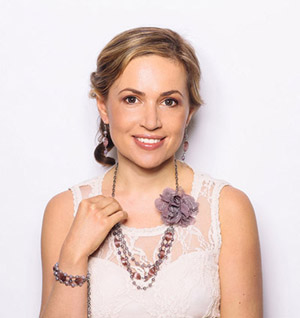 Irina Kovalenko is the founder of Irina Designs and the designer behind all the designs in Irina Designs jewellery and gift collection. Irina was born and raised in Moscow, Russia and moved with her parents to Toronto, Canada when she was sixteen.  Irina studied Economics and Business and completed her Masters in Business Administration, then worked as a Marketing Manager but her true passion always lied in arts and design.
Since early childhood and throughout her youth and adult life, Irina loved arts and crafts. She loves painting and photography and tried her hand at a variety of crafts including pottery, stained glass, crochet, paper crafts and flower arrangement. She is also a certified interior decorator and web designer. Irina started designing jewellery in 2007 when she took jewellery-making classes at a local art and craft store and that was just the beginning.
At first, Irina designed some jewellery pieces just for herself and some close friends and family. Then her designs were in great demand and she began selling her jewellery through her online boutique, to some of the exclusive fashion boutiques in Toronto and participating in a variety of Arts and Crafts Shows in Ontario.
In 2012, Irina left her full-time job to pursue her true passion and concentrate on growing her jewellery brand. Irina gets her inspiration from nature, different art and design styles and international travels. Her designs are fashion-forward, yet classic and elegant. Irina uses high-quality semi-precious stones, pearls, glass and crystal beads to create unique and versatile designs. She creates every piece by hand with patience, precision and great attention to detail.