Mother's Day Special - buy a necklace and get a free pair of earrings*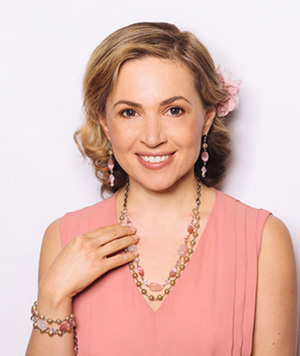 Mother's Day is just around the corner, spoil your Mom with a gift of a one-of-a-kind jewellery.
Here is how it works:
1. Place your order online for a necklace via PayPal shopping cart. If you don't have a PayPal account, you can pay as a guest. Alternatively, you can send an EMT (Email Money Transfer) to info@irinadesigns.com
2. Once we receive your order, we'll ship you the necklace with a free pair of matching earrings within 2 business days.
3. You can pick the earrings from the same set as the necklace or a different set. Please send us a separate email with your choice of earrings to info@irinadesigns.com if the matching earrings you prefer are sold or come from a different set than the necklace you purchased. If we don't get an email with instructions, we'll assume that you prefer the matching earrings from the same set as the necklace.
* Please note that this sale expires on May 14, 2017.
Watch our Mother's Day Video
Browse our jewellery designs, find a perfect Mother's Day gift
| | | | |
| --- | --- | --- | --- |
| Rose Dream | Chrysoprase Dream | Turquoise Pearl Dream | Alice in Wonderland |
| Land of Sky | Cruise Princess | Sunset | Santa Fe |
| Pearl & Crystal Waterfall | Aqua Glamour | Violet Victoria | Peacock Elegance |
| Desert Sky | Pearl Dream | Maui Princess | Cafe au Lait |
| Amalfi Princess | Pearls & Shells | Turquoise Roses | Amethyst Garden |
| La Vie en Mauve | La Vie en Rose | Violet Cameo | Coral Dream |
| Moulin Rouge | Winter Wonderland | Winter Berries | Teal Mystique |
| Tourmaline Romance | Starry Night | Onyx Glamour | Sardonyx Circles |
| Autumn Foliage | Golden Branches | Golden Leaves | Carnelian Autumn |
| Violet Daisy | Sunkissed Rose | Pearl Butterfly | Sunset |
| Sea Sunset | Santa Fe | Sedona | Monet Lilies |
| Ocean Star | Ocean Shells | Ocean Cameo | Ocean Breeze |
| Crystal Rain | Black & White Cameo | Moon Rose | Moon Mystique |
| Aquamarine Dream | Aquamarine Princess | Tourmaline Princess | Oriental Princess |
| Champagne Flower | Violets & Rhinestones | Black & Silver Flower | Royal Blue Flower |
| Autumn Forest | Copper Tree | Carnelian Heart | Opal & Citrine Fantasy |
| Denim Chic | Peridot Princess | Blue & White Flowers | Canadian Beauty |
| | | | |
| --- | --- | --- | --- |
| Jasper Peacock | Tigress | Citrine Bird | Wooden Lace |
| Snow Flower | Cherry Blossom | Spring in Paris | Fire & Ice |
| Masquerade Belle | Onyx Rose | Violet Dazzler | Onyx Dragon |
| Rose Fairy | Spring Leaves | Turquoise Romance | Rose Dream |
| Party Time | Pearl Cameo | Amethyst Owl | Pearls & Swirls |
| Sage Medallion | Pearl Leaves | Pearl Wood | Pearl Beauty |
| Pastel Princess | Round Agate | African Tale | Lady Agate |
| Lilac Dream | Blue Bronze | Red Flower | Day & Night |